Гиацинты и луковицы летнего цветения
Our market for Hyacinths is growing. Most of these spring flowering bulbs are for public gardens in the far east.
The assortment of summer flowers that we sell varies. Let us know if you are looking for something, we are sure to find it for you.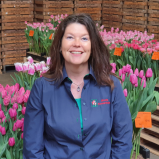 Majan Wiersma

Don't waiste your energy on things that you have no control over - Stop je energie niet in zaken waar je geen invloed op hebt.

Ons team